Choose your cup of English
BLACK TEA – professionals
If your team needs English for communication with their colleagues from other branches or with your clients.
GREEN TEA – teens & adults
If you want to improve your English with the support of a private teacher.
FRUIT TEA – schools
Contact me if your school needs a teacher.
ICE TEA – thematic activities
If your children stay home and get bored during winter or summer holidays.
Info
Why should you study English with me?
The limits of my language are the limits of my world.
My name is Janek. I'm an English teacher and I love my job.
I spent five years studying applied linguistics where I mastered the art of teaching English as a foreign language. My experience and painstakingly collected teaching resources allow me to prepare made-to-measure lessons for children, teenagers or adults.
Apart from teaching, I coordinate international youth projects promoting mutual understanding among young people.
I speak five languages: English, Spanish, Catalan, Polish and German.
Percentage of lessons of English for specific purposes

Percentage of classes with youth and adults

Percent of classes with young learners

in the 2018/2019
Where do I work?
SANT CUGAT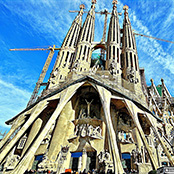 BARCELONA
ON-LINE